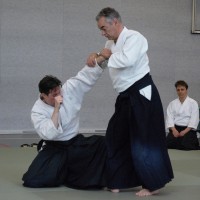 August Dragt
6th dan
"You must continue to develop ..."
August Dragt trains aikido since 1985. He started with Peter Bacas in Amsterdam within the NCAF. He regularly attended the courses of the teachers who were invited by the NCAF like Fujita Sensei and Kanetsuka Sensei, besides several other high-ranking teachers (Okamura Sensei, Yokota Sensei, Kobayashi Sensei, Yasuno Sensei...). Later he trained regularly with Ikeda Sensei in Switzerland, where he earned his third Dan. August Dragt visited many national and international training courses with many different teachers. He feels it is important to continue to investigate and improve the aikido techniques. He also attaches importance to the organization of aikido. He was the President of the NCAF and the Aikido department of the NCS. From 2000 to 2016 he was on the board of the International Aikido Federation (IAF). Along with Pauline Suyl (5th dan) he founded a dojo in Soest (Aikido Association Soest, 1995), which is led today by Ron Roeten (4th dan). The dojo in Amsterdam was launched in 2001 to have a place where various teachers can teach together.
in daily life August Dragt is a communication trainer and program developer. For CBR, he developed an Aikido training for one hundred instructors in 2007.
Since 2013 August trains Mugai Ryu Iaido.