Extension of our program: extra advanced class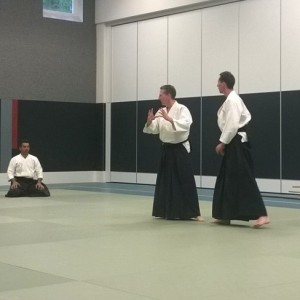 Wednesday evening advanced class 20: 00-21:30

Starting September 2017, we will expand our program with an advanced lesson on Wednesday evening led by Wilko Lok (5th dan) and Thomas Johanssen.
Wilko Lok started in 1989 with Aikido in Gé Koning's Sportcentre with his teacher Carel Zappeij (7th dan). After the retirement of Carel Zappeij, he continued the dojo with some fellow teachers. He has also dojos in Zaandam (Hikari) and in Purmerend.
We are very pleased that Wilko wants to train with our group. We find it an interesting challenge to cooperate with Aikidoka's from another organization (JBN). We expect the differences to be small as we all practice Aikikai Aikido.
Carel Zappeij has given several stages at our dojo, making a valuable contribution to our knowledge of Aikido. He is one of the oldest Aikidoka in the Netherlands. Wilko has also taught us several times, the last time in May when he visited our dojo with a number of students (see picture below).